In 2008, the Fédération Française de la Tannerie Mégisserie, in partnership with CTC – Development Committee for the Footwear, Leather and Leather Goods Industry –, embarked on a vast collective operation to promote French leathers production, under the name Intérieurs Cuir ['Leather Interiors'].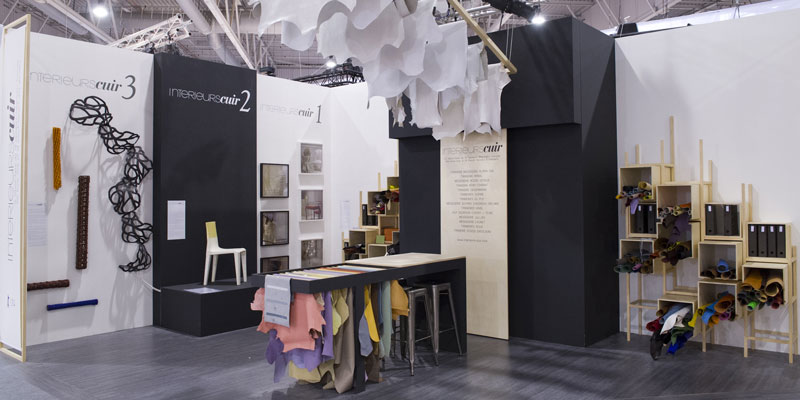 © Anne Emmanuelle THION
This Intérieurs Cuirs operation unfolded in 3 Parts between 2008 and 2013, in areas of professional activity linked to the home: interior design, architecture and fittings, and harnessed one by one the creativity of tanners themselves, a designer and students from French design colleges, via a competition.
The aim was to come up with new and often unexpected applications for French leathers, and to highlight both the expertise of French tanners and the diversity and quality of the leathers they produce, which feature so many properties and applications.
Part 1: Leather invites itself into the home – september 2008
"Leather has its place inside our homes": this is not a new idea, but it was the finding that inspired the Fédération Française de la Tannerie Mégisserie to embark on the project.
As a result, the decision was taken in September 2008 to surf this wave by "dressing" two rooms on a stand at the Le Cuir à Paris trade fair, in Villepinte. A dozen or so French tanners took part in the operation, with the support of CTC and B2S (the Style Bureau, which has since become CTC's Fashion Forecasting department). The aim was to showcase leather as a material, and the techniques and know-how associated with it.
And so the Intérieurs Cuir operation was born.
A study and a bedroom decked out in leather
An unusual stage set was structured around a recreated study and bedroom.
The study contained a leather-covered mantelpiece, a baroque armchair, an embroidered rug, an oversize chandelier, leatherbound books and an accumulation of other objects, all in white leather. 
The bedroom, for its part, drew its inspiration from the 1930s, and included: parquet-style leather floor tiles, a mosaic leather headboard on the bed, a silk-screen printed leather panel resembling a picture, and also laser-cut curtains/hangings, all in brown tones.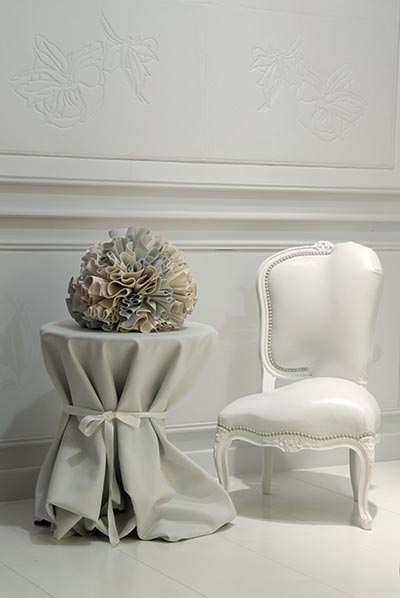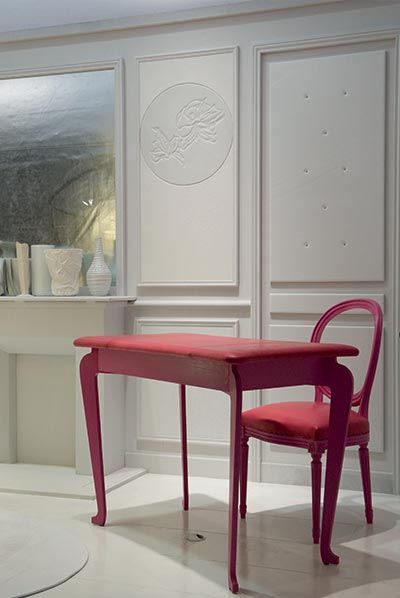 © Taneka
Part 2: A designer turns his attention to leather – september 2010
As Part 1 had been such a success, the French tanners decided to mobilise again in 2010. Once again with CTC's support, they dreamt up a Part 2 for Intérieurs Cuir. This time they went further, and commissioned the services of designer François Azambourg.
His task? To design a series of objects linked to the home, featuring new applications for leather.
François Azambourg was sensitive to the wide variety of leathers available, and focused his attention on some of their properties, such as insulation, lightness, suppleness and strength, plus the sensory and acoustic properties of this material.

© Fillioux & Fillioux
10 themes for 15 objectsFrançois Azambourg and the group of tanners involved selected 10 themes, with a view to creating 15 objects. These themes included end-grain leather flooring, composite leather, the flexibility of leather and its sensuality. The 15 objects, for their part, vied with one another to be the most original, e.g. a "leather and foam sandwich" reclining chair, a crinkled leather folding screen, a plywood and parchment chair, a leather radio and many more.
These unique and highly unconventional creations were exhibited in September 2010, at Le Lieu du Design in Paris, and again in April 2011, at the "DePadova" flagship store during the Milan Home Furnishing trade fair.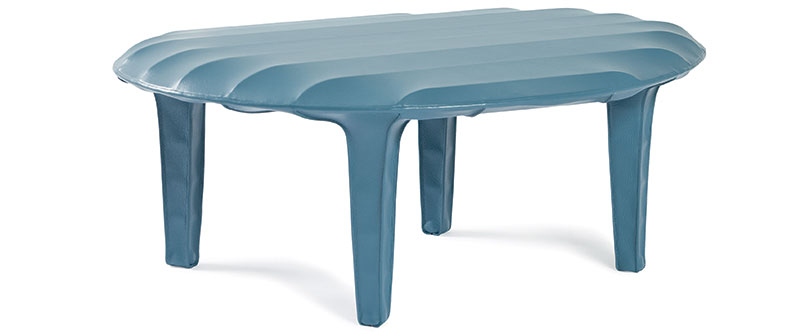 © Fillioux & Fillioux
Part 3: Leather inspires young talents – 2012-2013
In 2012, the French tanners decided to seek ideas from the young generation, by holding a competition on the theme of "leather out of context". Students from 7 French colleges of interior design and architecture were invited to submit entries, to be considered by a panel of judges comprising professionals working in the field of decoration, chaired by architect and designer Patrick Nadeau.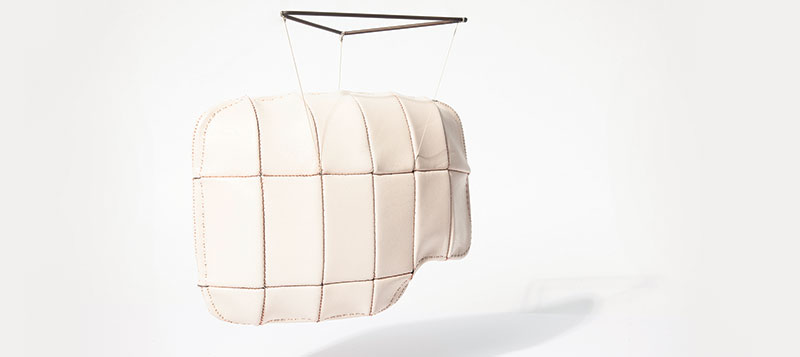 © JF Rogeboz
7 prestigious French colleges of design were invited to take part in this competition:
From Paris:
CAMONDO
ENSAD
ENSCI - Les Ateliers (Paris),
From elsewhere around France:
ESAD (Reims),
ESADS (Strasbourg),
ESADSE – Cité du Design (Saint-Etienne),
L'École de Design Nantes Atlantique (Nantes)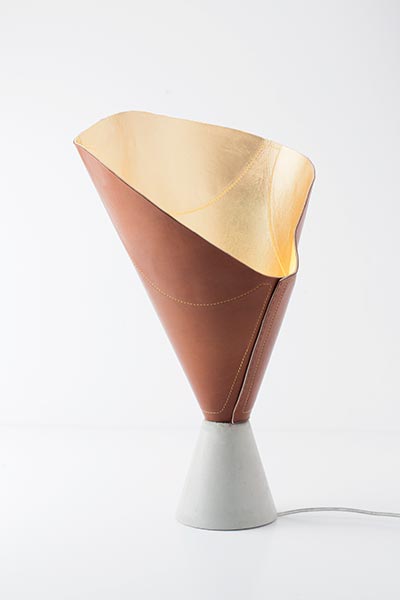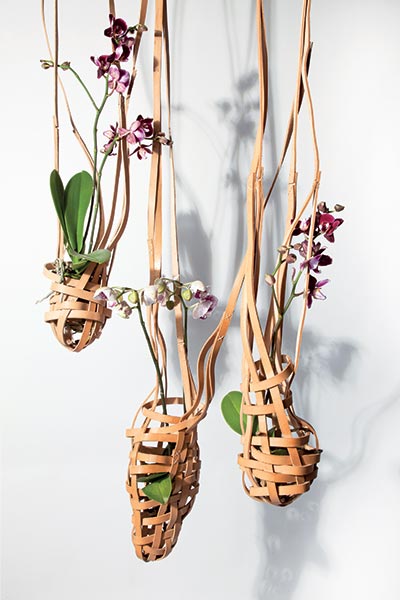 © JF Rogeboz
Leather professionals evaluating students' ideas
In 2013, the students presented their projects. Short-listed candidates then produced a scale model of their design, working closely with a professor from their college, but also with advice and support from leather professionals belonging to the Fédération Française de la Tannerie Mégisserie and to CTC.
Seven exhibitions in Paris and around France
In September 2013, the winning-entry prototypes and the 15 other models produced by the finalists of the Intérieurs Cuir Part 3 competition were shown at an exhibition held during the 3rd edition of Paris Design Week.
A few days later, it was the turn of Le Cuir à Paris trade fair at Villepinte to host these prototypes and models. Immediately afterwards, they set off on a six‑week Design Tour, taking in Bordeaux, Nantes, Lyon, Montpellier and Marseille.
ARTERIA: Jury Award (1st prize)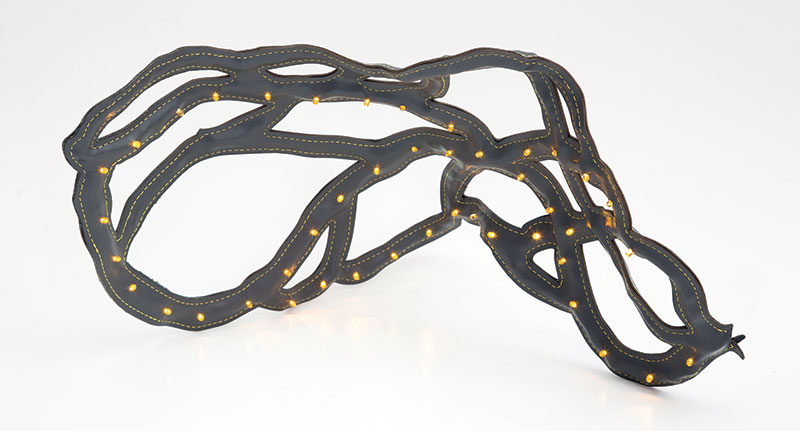 © JF Rogeboz
LEATHERIZE: Jury Special Award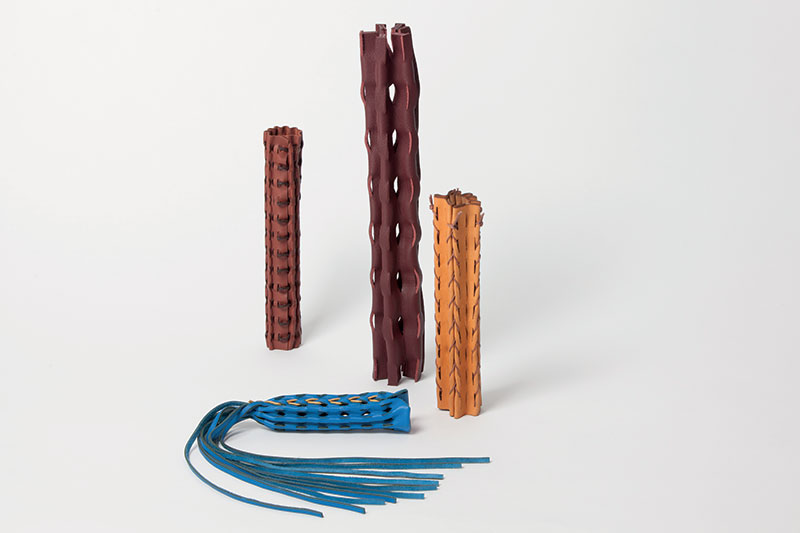 © A Paumard
Maison & objet
More recently, between 24 and 28 January 2014, the French tanners involved in the Intérieurs Cuir operation took part in the Maison & Objet trade fair. This provided an opportunity to take stock of their 3-Part operation seeking to associate leather with the areas of decoration and design.
In the wake of the Maison & Objet show, French tanners now wish to pursue their interventions at interior design and architecture colleges around France. Their aim is to train and inform future designers, exchange ideas and maintain a dialogue with them, and arouse new interest in leather as a material.
Tanners involved in the Intérieurs Cuir Part 3 operation: Tannerie Mégisserie Alran Sas / Tannerie Arnal / Mégisserie Bodin Joyeux / Tannerie Rémy Carriat / Tannerie Degermann / Tanneries Dupire / Tanneries Du Puy / Mégisserie Guyard Chesneau (Relma) / Tanneries Haas / HCP (Gordon Choisy – TCIM) / Mégisserie Jullien / Mégisserie Lauret / Tanneries Roux / Tannerie Sovos Grosjean.
Further information on Intérieurs Cuir: www.interieurs-cuir.com